On #GivingTuesday, the Child Welfare Services (CWS) General Fund received a $5,000 check from the G for Kids Foundation. Each year Tulare County Health & Human Services Agency CWS social workers and volunteers ban together to collect, wrap, and distribute toys to over 1,500 foster youth to ensure every child gets a holiday gift. Community donations also support various CWS programs and supplies for vulnerable children throughout the year including clothing donations, back to school supplies, birthday gifts, therapy kits, and much more!
Thank you to G for Kids Foundation and Groppetti Automotive for supporting our community youth. To lean more and how you can help support foster youth and other Friends of Tulare County programs, visit our programs at FriendsTC.org.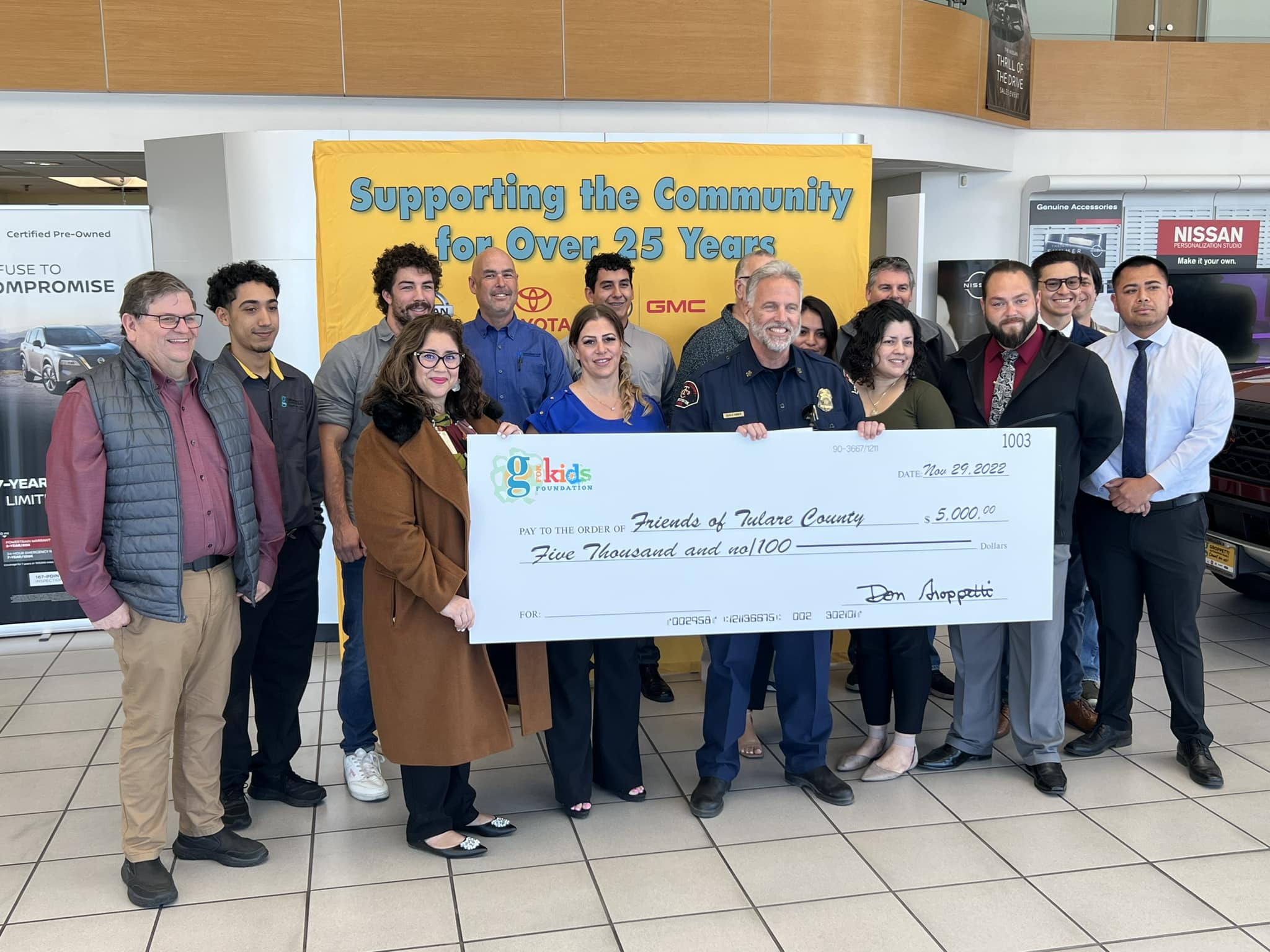 About #GivingTuesday — A Global Generosity Movement
GivingTuesday was created in 2012 as a simple idea: a day that encourages people to do good. Since then, it has grown into a year-round global movement that inspires hundreds of millions of people to give, collaborate, and celebrate generosity. This year, GivingTuesday is celebrated on November 29.
Join the movement and give—each Tuesday or every day—whether it's some of your time, a donation, or the power of your voice in your local community.
It's a simple idea: whether it's making someone smile, helping a neighbor or stranger out, showing up for an issue or people we care about, or giving some of what we have to those who need our help, every act of generosity counts, and everyone has something to give.
On this #GivingTuesday, consider supporting our Friends of Tulare County, a non-profit striving to assist Tulare County's underrepresented populations through charitable giving and grant funding. It accepts donations on behalf of the County that in turn provide financial support for a wide range of programs.
For more information & how to donate, call (559) 624-8000 or send an email to: FriendsTC@tularecounty.ca.gov.
You can make a contribution by completing the FTC Public Donation Form or the Tulare County Employee Payroll Deduction Form on FriendsTC.org.
For more on GivingTuesday, visit: https://www.givingtuesday.org/.
Friends of Tulare County and AmazonSmile
Did you know that by shopping on AmazonSmile.com, .05% of the value of eligible purchases will be donated to a charitable organization of your choice? There is no difference between using the Amazon.com platform and AmazonSmile.com except that a donation will be made on your behalf.
Please consider choosing Friends of Tulare County (FTC) as your charitable organization. FTC strives to assist underrepresented populations of all ethnicities and cultures through donations and charitable giving. Keep your donations right here in Tulare County by selecting Friends of Tulare County when you shop at AmazonSmile.com.—knowing you are supporting our local efforts!